Hopsonomy is an online craft beer training platform focused on building craft beer salesmanship skills. It's perfect for everyone from individuals to enterprise, with content for anyone who sells beer at restaurants, breweries, bars, liquor stores, hotels, grocery stores, and distributors. We offer flexibility like monthly and annual subscriptions with discounts for groups as well as custom course development.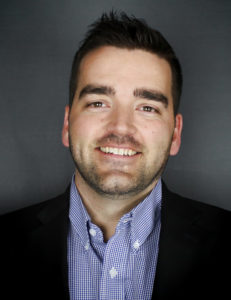 Matt Nelson is the founder and CEO of Hopsonomy, which is breaking ground as the first online craft beer training platform created especially for teams. With continuously updated content and an approachable learning experience, Hopsonomy helps anyone who sells craft beer build confidence talking about beer with their customers.
Matt is also the author of The Renegade Cook, a book with advice for cooks and chefs on how to grow their career in kitchens, and the founder and CEO of Modern Training and Development, Inc., a company creating premium learning content and custom training programs for restaurants, retail, breweries, and more
Matt's first craft beer was an Anchor Steam at a bowling alley in Omaha during a ska concert. The second beer that stood out was a Leffe Blond at a Belgian bar in West Africa, with its new depths of complex yeast flavors. The third was an Odell 90 Shilling his first night after moving to Colorado. He's learned to love all styles, but homebase is a single hop pale ale.
Sales and Marketing Manager
Korey has been working in the beer business for as long as he's been legally able to drink beer. Even before graduating college, he was known for showing up to house parties with a 6 pack of something special, rather than indulging in the mass produced beer that was readily available. As a Certified Cicerone, he's taken it upon himself to not only learn more about the world of craft beer, but also share what he's learned with others eager to learn.
For the past 10 years he's worked for regional and nationally distributed breweries, as well as spending time as a consultant for businesses looking to improve their craft beer sales.
Korey enjoys any beer that's right for the occasion. More often than not you'll catch him drinking the classics. Most days that's a piney west coast Pale Ale or IPA. If something light in body is in order, make it a Pilsner. Although harder to find, he'll have a Flanders Red or Baltic Porter when it's on the menu.
Danny is a Creative professional with over a decade of experience, a passion for making ideas happen, and a love of craft beer. He spent five seasons working for the Chicago White Sox in-house creative department, and most recently worked in the Brewers Association creative department for nearly three years.

His two favorite breweries are Revolution Brewing in Chicago, Illinois and Odell Brewing Company in Fort Collins, Colorado. Each brewery's lineup of diverse, interesting beers is phenomenal, and their branding and packaging are consistent, fun, vibrant, unique, and stand out in a very crowded marketplace.

If Danny were stranded on a desert island and could pick only one beer to have on tap, it would be a Session IPA. However, since he is fortunately not bound to an island with one beer tap, he loves that there are so many diverse styles to pair with different occasions.